GreenWay Network
Blog
GreenWay acquires Rawicom EV and the Revnet network of 70 charging stations
Increases GreenWay's share of public AC market in Poland to ~20%
Electric vehicle drivers will soon find 70 more stations at their disposal in the GreenWay network in Poland. This is the result of the purchase of Rawicom EV and the Revnet network by GreenWay. All Revnet stations will become part of the GreenWay network and made available in the GreenWay mobile application later this year. GreenWay's acquisition of the Revnet network follows its announcement in February that it raised €85 million to support network expansion.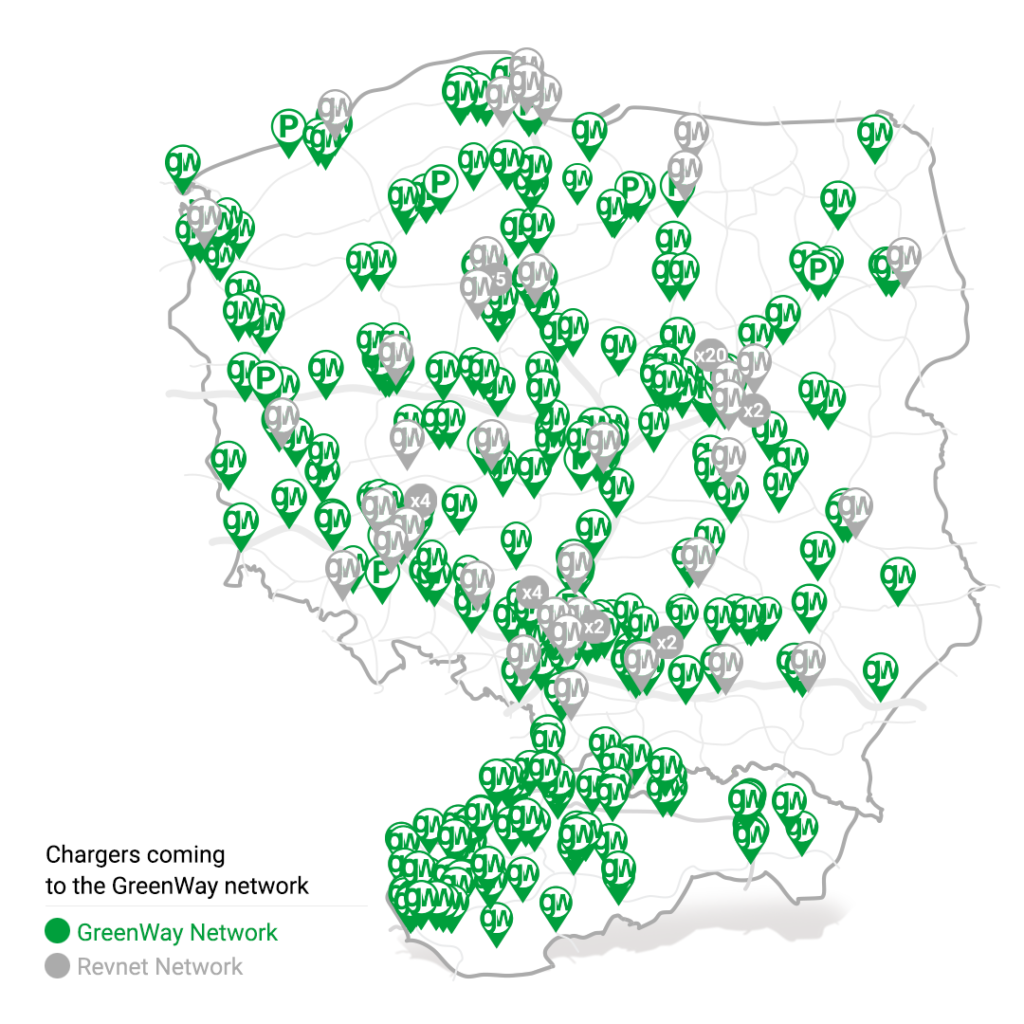 The Revnet network consists of seventy 22 kW AC charging stations, located mainly in urban locations. This acquisition will increase GreenWay s share of the public AC market in Poland to ~20%. In selected locations, GreenWay plans to convert the stations to DC fast charging stations and increase their power.
All Revnet stations will be included in the GreenWay public network and made available in the GreenWay mobile application. They will also be covered by the technical services, customer service, and roaming solutions of the largest fast charging network operator in Poland – GreenWay.
"This transaction is a win for both existing Revnet and GreenWay customers. Revnet customers will gain access to the largest charging network in Poland, along with our top quality customer service and industry leading charging services," said Rafał Czyżewski, President of GreenWay Polska. "Additionally by including 70 new stations in our network, we are increasing access to charging services for our existing customers. We believe that drivers will be happy to use the new locations, especially after their upgrade."
In February this year, GreenWay raised €85 million to invest in expansion and growth. The purpose of the investment is to support GreenWay in building a leading position in the Central and Eastern European region.
"GreenWay continues to make significant investments into the expansion of the public charging network, through our own installations and also acquisitions. We promised our clients that we would be constantly improving our services and the availability of charging, and we're doing just that. Another important goal for us is to be a strategic business partner for companies that intend to develop electromobility for their own fleet or as a service to their customers," said Peter Badik, CEO, GreenWay Infrastructure.
"I am very glad that we are putting the fruit of our several years of work into good hands," said Adam Hłond, co-owner and member of the management board of Rawicom SA. "I would like to emphasize that our company remains on the electromobility market, focusing on providing customers with high-class devices and infrastructure for charging electric vehicles as well as providing installation and maintenance services. In addition, we are constantly improving our primary business, in which we have specialized for many years, which is the construction of large-scale photovoltaic farms."
Video of the announcement is here: GreenWay acquires Rawicom EV and the Revnet network of 70 charging stations – YouTube
***
About GreenWay:
GreenWay (consisting of GreenWay Infrastructure and GreenWay Polska) is a full service electric vehicle charging solutions provider (CPO and EMP), and a market leader in Central and Eastern Europe. Founded in 2011, its mission is to popularize electric vehicles so that Central and Eastern Europe becomes cleaner, healthier and less dependent on oil.
As a charge point operator, GreenWay operates a network of 524 of its own public charging stations, most of which are DC fast charging stations over 50 kW. At numerous locations it also operates auxiliary energy storage and energy management systems.
As an e-mobility service provider, GreenWay directly supports ~28,000 EV driving clients, including access to our own network and thousands of chargers throughout Europe via roaming partnerships.
GreenWay also offers comprehensive services to third parties which want to host charging stations or convert their fleets to electric, including installation, configuration, maintenance and management of charging points.
GreenWay is an active member of ChargeUp Europe, the Platform for Electromobility, the Polish Alternative Fuels Association, the Slovak Electric Vehicle Association and the Central & Eastern European Green Transport Initiative.
###
For further information:
Aaron Fishbone, International Communications
+421 911 371 827