GreenWay Network
Press releases
GreenWay opens first electric vehicle charging hub in Poland – up to 11 EVs can charge simultaneously
Up to 11 vehicles able to charge simultaneously at strategic park & ride location
Warsaw – GreenWay Polska, part of the GreenWay Network, has opened the first of its kind charging hub for charging electric vehicles in Poland. The hub is located in Galeria Młociny in Warsaw and supports charging for up to 11 vehicles simultaneously.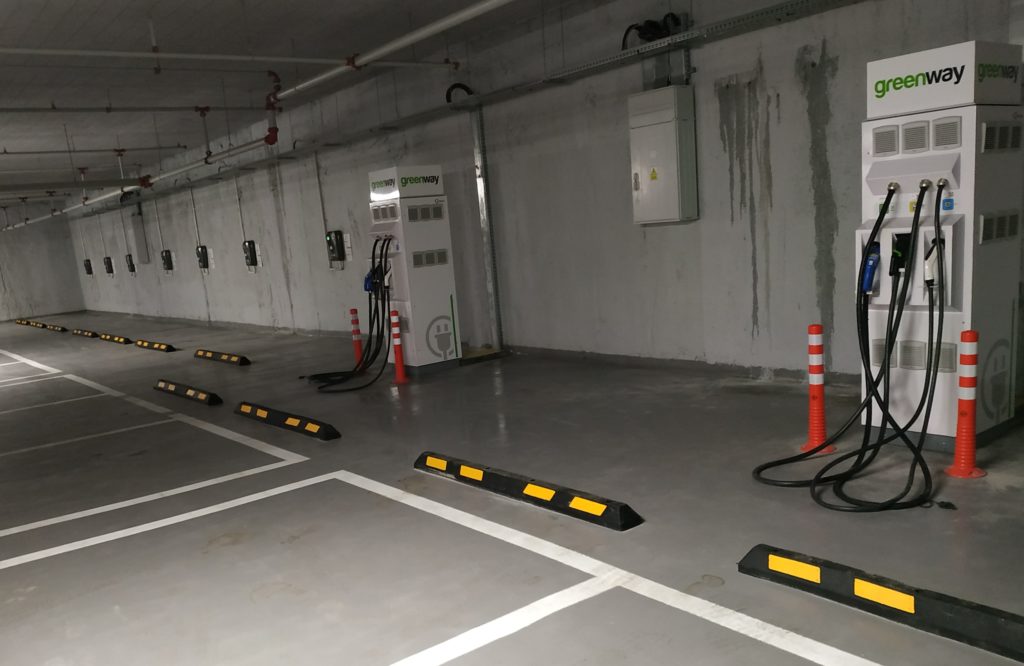 The hub consists of 2 Efacec DC fast charging stations (50 kW each), each with 3 charging sockets, and 7 Etrel Inch AC stations (22 kW each), each with a single charging socket. Because each Efacec station can charge up to two vehicles simultaneously, the total number of vehicles that can charge simultaneously is 11.
This hub is in an especially strategic location because Galeria Młociny is located adjacent to a metro station and thus the parking lot also serves as a park and ride location, where users can park their vehicle and then continue their commute using public transportation. EV drivers who may not have a charger at home can now easily charge their vehicle slowly during the day on the AC chargers, and pick up a vehicle with a full charge on their way home. There are about 550 registered GreenWay clients in the greater Warsaw area.
Downloadable photos of the hub are here: https://spaces.hightail.com/space/MIOQTz2a88/files
Multi-station charging locations have been successfully used in the Tesla network and for several years have become more common in Western Europe and Scandanavia. However, until now, such solutions have not been used more widely in Central and Eastern Europe.
"Charging Hubs are a solution to meet high demand for recharging at key locations mainly in more developed markets, where a large number of electric cars are traveling on the roads," said Maciej Gajewski, Managing Director of GreenWay Polska. "The introduction of hubs on the Polish market is an example of us preparing to meet the demands of the dynamically developing electric vehicle market."
The Action was co-financed by the Innovation & Networks Executive Agency (INEA) of the European Commission through the Connecting Europe Facility financing mechanism and a loan from the European Investment Bank's InnovFin program. GreenWay is the first company in Central & Eastern Europe to be recognized by the InnovFin mechanism.
The content of this document is the sole responsibility of GreenWay and does not necessarily reflect the opinion of the European Union.

***
About the GreenWay Network
Comprising GreenWay Infrastructure (in Slovakia) and GreenWay Polska (in Poland) the GreenWay network contains nearly 200 networked charging stations throughout Poland and Slovakia. The GreenWay network provides comprehensive coverage of both countries enabling seamless electric travel throughout and between them. GreenWay driving customers benefit from partnerships with many other chaging infrastructure companies, allowing them roaming opportunities throughout Europe.
In addition, GreenWay develops the network together with interested partners and can provide charging infrastructure management services, as well as the chargers themselves, at the request of other entities.
The mission of the GreenWay network is to popularize electric vehicle travel so that Central and Eastern Europe becomes cleaner, healthier and less dependent on oil.
For more information, contact:
Aaron Fishbone, Communications Director
M: +421 911 371 827